Whiskey Words and a Shovel volume I  by r.h. sin
poetry 
Rating: 7/10
I read a lot of poetry over the past couple weeks lol. This contemporary collection was riveting from beginning to end. But in reading it, I found that I was reading it more to have something quick to read than because I enjoyed the content fully. Still, there were a couple of poems that struck deep. I treated myself to this book on a particularly bad day, and it was worth it.
Strange Diary Days: What We Left Behind and
Strange Diary Days: All That Can be Imagined by Blake Edwards
poetry
I was fortunate enough to have received free copies of both of Blake Edwards poetry collections: Strange Diary Days: What We Leave Behind and Strange Diary Days: All That Can be Imagined in exchange for my honest reviews.
I gave What We Leave Behind 3.5 stars and All That Can be Imagine I gave 4 stars as I did enjoy it a bit more. All in all, I found the poetry riveting and beautiful but sometimes so wordy that the meaning was lost on me. Still, these poems reminded me of something wild and ancient while feeling like home. You can find my full reviews here.
King of Scars by Leigh Bardugo
young adult fantasy 
Rating 5/10 
This book was rather disappointing and made me wonder if I have truly outgrown YA. The ending was predictable and after 500 and whatever pages, I truly felt like nothing happened. The characters previously endearing became dull to me, but I do think that this story still has much potential and seems to be going in a direction I can get on board with.
The Silver Chair by C.S. Lewis
one of the best books ever
a classic? middle-grade fantasy? idk but everyone needs to read it. 
Rating: 10/10 because…my childhood
I truly cannot tell you how many times I have read this book and this series. I love it every single time. I read these stories when I need to be reminded of what I love. And for fun. I adore this story with everything in me.
The Secret of Red Gate Farm by Carolynn Keen
mystery 
Rating: 7/10 
This was another reread/relisten on audiobook. I spent five years of my childhood obsessed with Nancy Drew. I think I'm still just as obsessed. These stories make me so, so happy every time I revisit them.
Water Runs Red by Jenna Clare
poetry
Rating: 6/10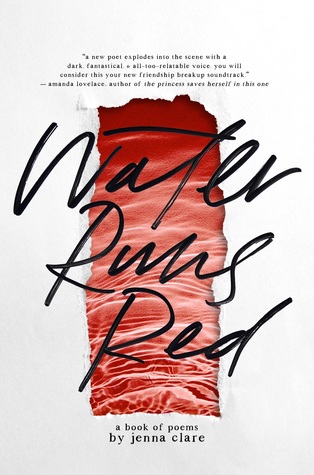 I've been following Jenna for a while now on her socials and her youtube. She is an extraordinary artist and creator. Usually, when YouTubers publish books, I'm quite hesitant to pick it up. But it was clear from when Jenna started talking about this collection, that this is very much a part of her and tells her story in a way that could not be told just through her youtube channel or photography. This collection is clearly derived from her experiences. I enjoyed it very much from an aesthetic and visual standpoint. I'm becoming increasingly uninterested in the short, modern poetry that dominates Instagram and such today. So while the topics were poignant and timely, the style just wasn't exactly for me.
Nocturnal by Wilder 
poetry
Rating: 8/10 
I just talked about how I'm becoming increasingly uninterested by modern poetry, BUT THIS COLLECTION was quite a delightful surprise. I'm not sure why I was so taken with this. Perhaps it is because the poems have stronger metaphors than I am used to reading in modern poetry? I don't know, but this particular poem really struck me.
Salt by Nayyiah Waheed
poetry 
Rating: 5/10 
I am conflicted about this book. The poems are very much based on the experience of the author; experience that is very different from my own. While I consider it important to read literature and poetry written by others whose experience diverges so much from our own, I felt disconnected reading this. Many poems seemed bland to me, but perhaps that is because of my increasing disinterest in this particular style of poetry.
Black Book of Poems by Vincent K. Hunanyan
poetry 
Rating: 8/10
I enjoyed this modern collection quite a lot. The topics were scattered and diverse. I found many favorite passages. I thought the author quite clever among his poetry peers who seem to string the same words and phrases together. I feel as though this book stands out in style while also maintaining some memorable pieces.
Clockwork Angel by Cassandra Clare 
young adult fantasy
Rating: 6/10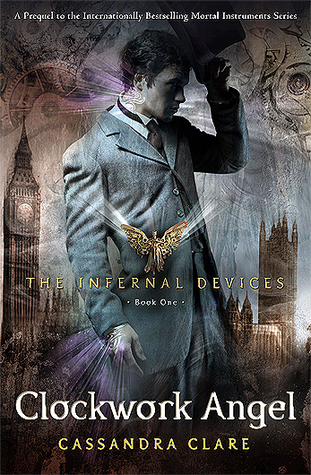 I finally climbed aboard the Cassandra Clare train! This has been a long time coming. I've seen the woman in person and heard nothing but good things about all her books. I felt more drawn to the prequel trilogy than I was to the original series even though most people recommend the Mortal Instruments before reading this. But who cares? I didn't love this book as much as I thought I would. I found the characters kind of bland. The enjoyed the setting and the poetry, but the plot didn't have as much substance as I had hoped for. Again, I think it's just me outgrowing YA and the hype combined. Still, I might read the next two and see!
A Cactus in the Valley by Olivia J. Bennet
young adult/ new adult contemporary/thriller 
Rating: 7/10
Now, THIS was a treat. I decided it was about time for me to read some self-published books that weren't my own, and Olivia J. Bennett was kind enough to send me a copy of her debut book. I wasn't disappointed. There were a couple aspects lacking as far as my connection to the characters, but overall, I found this emotionally-impacting story well worth my time. My full review is here.